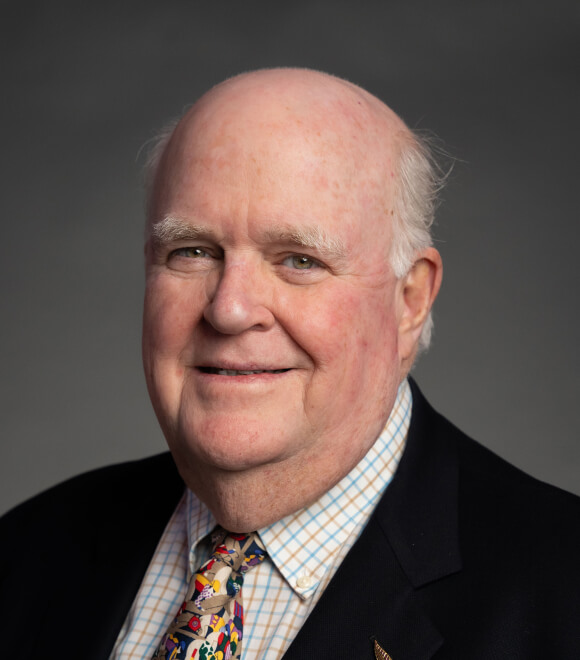 E. Thomas (THOM) Harvey, III
Chairman
E. Thomas Harvey, III, serves as Chairman of TKo Hospitality and President of Harvey, Hanna and Associates (HHA). Thom owns and manages a number of management and real estate property investment companies, including the Hyatt Place in Dewey Beach, and has a unique mix of business experience and sense of community that inspires the creation of innovative real estate solutions for the 21st Century.

Prior to establishing HHA in 1998, Mr. Harvey built, owned, and managed multiple waste management companies for over 25 years. Included among those companies were Harvey & Harvey, Inc., Home Waste, Inc., Harvey Mack/Volvo Sales & Service, and Confi-Shred, Inc. With annual gross revenues exceeding $100 million, the waste management companies collectively constituted one of the principal waste management and equipment providers in the region. Years ahead of industry peers and societal expectations, the commercial and resident waste management companies offered the first-ever and only recycling services in Delaware, thus forging a "green" and sustainable environmental future throughout the region.

After being pursued by several of the world's largest waste management firms, in May 1997 Mr. Harvey merged his companies into USA Waste of Delaware, a wholly owned subsidiary of USA Waste Services, Inc. This parent company, USA Waste Services, Inc., later acquired Waste Management, Inc. (WMI), a global waste management company located in Oakbrook, Illinois. USA Waste Services, Inc. then changed their name to Waste Management. Mr. Harvey has served on the Board of Governors of the Environmental Industries Association and the Chairman's Council of the National Solid Waste Management Association, both chartered out of Washington, D.C. Mr. Harvey is also past President of the Maryland and Delaware Solid Waste Management Association.

Thom is well known for his commitment to "give back" to Delaware and the surrounding community. With personal and corporate contributions of time, talent, and treasure, this philanthropic activity begins with Thom's alumni commitment to the University of Delaware (UD). Among his many contributions to UD, Thom has been recognized as a "Delaware Diamonds" benefactor since 2006, serves on the Advisory Board of the UD Lerner College of Business & Economics, and has remained active in the UD Mentors Program in the College of Business & Economics. In 2011, Thom was awarded the Lerner College of Business and Economics Alumni Award of Excellence by the Alfred Lerner College of Business & Economics at the UD. In 2014, Thom was inducted into the University of Delaware's Alumni Wall of Fame. Extending his philanthropic efforts to many worthy organizations in Delaware and beyond, Thom was elected Chairman of the Board of Trustees for Goldey-Beacom College in July 2010. He also served as President of the Board of Directors for the Centerville School and is a past member of the Sanford School Board of Directors.

Thom currently serves on the Board of the Delaware National Guard Community and is an active member of The Kennett Pike Association. As part of his community outreach efforts, Mr. Harvey sponsors two youth teams from Delaware that play in the Sunny Hill Basketball League held in Philadelphia, Pennsylvania. The league offers children the privilege to play at Temple University. Over 70 scholarships have been attained through the children's participation in this program (with more than 20 now graduated).

In 2008 HHA expanded its non-profit impact by creating an in-house charitable organization, The Delaware KIDS (Kids in Distressed Situations) Fund. A 501-c-3 organization, the Delaware KIDS Fund is dedicated to providing goods and services to Delaware's children who are "at risk" or are currently facing distressed circumstances. Since inception, The Delaware KIDS Fund has primarily focused on food security to overcome the challenging economic environment. The Delaware KIDS Fund has partnered with and provided direct financial assistance to the Bridge of Hope Food Bank (Wilmington), the Delaware Food Bank (statewide), Our Lady of Grace Orphanage (Newark), and the Cape Henlopen Food Basket (Lewes/Rehoboth Beach)

Thom completed his undergraduate degree from University of Delaware, graduating in 1975 with a Bachelors of Science in Business Administration from the esteemed School of Business and Economics.
Let's build something great!
Partner with a full-service hospitality management company for a fully stabilized and profitable property.
Grow with Us